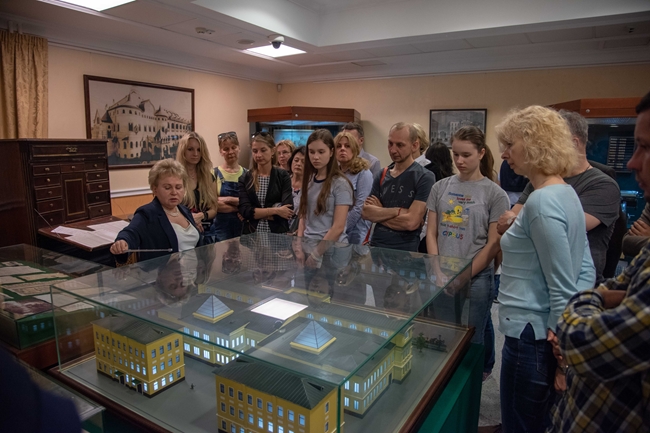 On 18 May, numerous Bank of Russia branches – from Kaliningrad to Vladivostok – took part in Museum Night. Exhibitions were organised not only on the premises of the museums at regional branches, but also in local cultural facilities and online. Thanks to all this, Bank of Russia exhibitions were accessible to over 30 thousand persons.
Visitors learned about important milestones in the history of the Russian banking system. This year is the 250th anniversary of Russian paper banknotes; therefore, the majority of excursions were devoted to monetary units and their history in each region. The Bank of Russia regional division in Chita put on an exhibition titled 'Temporary Rubles of the Provisional Government' featuring credit notes of the Far Eastern Republic, which existed in 1920-1922. Visitors to the Yekaterinburg exhibition could see extraordinary silk banknotes issued in 1920 in the Khoresm People's Soviet Republic.
The focus of visitors' attention was drawn to unique exhibits, such as ancient moneyboxes, safes, computing machines, and machines for the identification of counterfeit and worn out money. Visitors to the St Petersburg museum and exposition centre could see the historical interior of the big operational room and take pictures of themselves in the office of Alexander Stieglitz, the first manager of the State Bank.
In addition to viewing exhibits and attending lectures, visitors could also participate in interactive programmes. Children and adults solved financial quizzes, and took part in games and quests. Using test banknotes, the employees of Bank of Russia branches demonstrated the process of banknote calculation and packing and allowed their guests to try their hand at being a teller. Experts taught master classes in determining the authenticity of banknotes. In the city park of Novosibirsk, Bank of Russia employees gave a lecture on the history of money collection. After the lecture, participants explored armoured CIT vehicles (inside and out) and had the chance to take photos in cash collectors' helmets and bulletproof vests as a souvenir.
Over 200 persons visited the Bank of Russia museum in Moscow. In the Magic of the Theatre exhibition, guests saw coins made of precious metals devoted to the theatrical arts. The youngest guests received "half a million rubles" in souvenir packs made of shredded and compressed worn-out banknotes.
It is the fourth time in a row that the Bank of Russia's museum and exposition fund has taken part in Museum Night. We would like to remind you that the Moscow exposition of the Bank of Russia museum is also open to the public free of charge on other days.
20 May 2019